Pet Gallery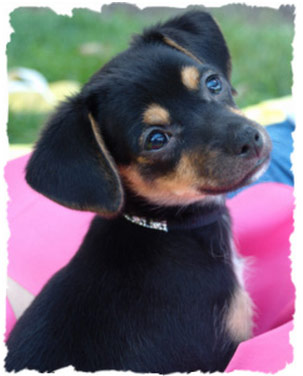 Ms. Monroe
Monroe was adopted by the Gray family in August of 2008. We had been looking for a small dog that would be good with children as well as other animals, Monroe was the perfect fit. She had been very well socialized at the shelter she was living at and after a few days of getting used to us, has become a part of the family. To our surprise even our cat Milo has seemed to accept her as well.

Monroe's been with us for only a month, and now we couldn't imagine life without her. We've learned that one of the most important aspects of getting a dog was knowing what we wanted ahead of time (size, breed, etc…) before we went out looking and "falling in love" with a breed that wasn't right out for our family.

Monroe loves playing with her kong and going for walks. She also loves chewing up our son's toys, and in turn he is learning how to keep them picked up.

Many thanks to Dr. Brooks for her insight in helping us pick up the newest addition to our family.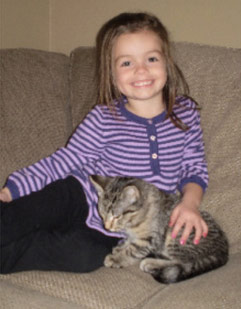 Dutchess
Dutchess joined our family in November for my daughter's birthday!

I was on the phone with Dr. Brooks often, making sure we got the right animal for our family.

She was so knowledgeable, not just about the process of adopting an animal, but about the care needed after.

She has given us advice on appointments and vaccinations, always with the care of the animal at the heart of her recommendations!

She is an amazing doctor. And my daughter couldn't be happier with her new little "baby"!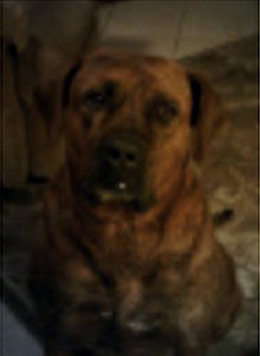 Jayla
We brought Jayla into our family not quite a year after having Luca down for bone cancer. We saw this scared and frightened dog on the Humane Society website and it was love at first sight. We got Jayla on March 21st, 2008. That night I emailed Doc and told her that she had a new patient.

When we took Jayla in, a few days later, she was really deep in her protective shell, afraid of everyone and everything. Jayla was all skin and bones and had real large nipples. But with the love from our family andand Dr. Brooks… Jayla is one happy 3 year old mastiff who likes walks and ice cream.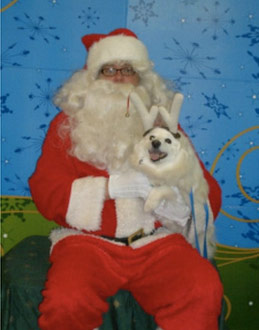 Comet
Comet the Reindeer was adopted by Pattie Bomar from the American Eskimo Rescue of St. Louis when he was 10. He's now 12.